Unverferth 55 Series Seed Runner Tender - Smoother, Gentler Self-Filling and Unloading with Lower Profile -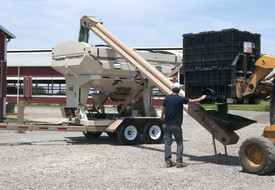 7/26/2016
Unverferth Manufacturing Co., Inc. announces its new 55 series Seed Runner® self-filling seed tenders for enhanced operator ease and gentler seed handling. Seed Runner seed tenders are ideal for the widest variety of bulk seed handling including corn, soybeans, cotton, peanuts and wheat.
The original patented, self-filling dual-compartment Unverferth Seed Runner bulk seed tender set new standards for functional design innovation when first introduced in 2006. Seed Runner seed tender innovation continues today with a new lower profile tank design and gentler conveyor design for easier and smoother filling.
The exclusive patent-pending rubber belt design features U-shaped rows of cupped, offset cleats for gently carrying seed at up to 40 percent higher capacity. The rounded discharge chute is fitted with a rubber lining for even-gentler seed handling. Two standard downspouts are included – 4-foot flexible for central fill planters and drills; two-stage telescopic with 34-foot reach on XL models and 30-foot reach on others.
XL model conveyors are eight inches in diameter and 21-feet long and offer the greatest unloading reach and speed. Conveyors on other models are 18-feet in length with a choice of 6- or 8-inches in diameter.
The 8-inch-diameter conveyors unload up to 35 bushels per minute and the 6-inch diameter conveyors unload up to 16 bushels per minute. A smooth-start feature quickly ramps the belt up to full operating speed for extended belt life. The speed of the conveyor can be independently adjusted from the engine speed.
A wired remote for easy conveyor on/off and raise/lower is standard; a choice of three wireless remote control packages – 3-, 6- and 7-function -- is optional.
Available scale packages feature an optional downloader kit for transferring data to the grower's personal computer and an optional printer for instant hard-copy verification. Seed Runner seed tenders can also be equipped with a T&G applicator for easy application of talc, graphite, or other fluency agents and a hydraulic-operated jack for added parking convenience.
Tank capacities are 400 seed units for model 3955XL; 375 seed units for models 3755XL and 3755; and 275 seed units for models 2755XL and 2755. All models include durable undercarriages, with a choice of bumper or 5th-wheel hitch, all-wheel braking, lighting, reflective striping and transport chain for safer travel. Unverferth Mfg. Co., Inc. is a family owned manufacturer and marketer of tillage, seed, hay- and grain-handling equipment along with fertilizer applicators, pull-type sprayers and agricultural dual, triple and specialty wheel products. For additional information, contact Unverferth Manufacturing Co., Inc., P.O. Box 357, Kalida, OH 45853. Phone 419-532-3121 or visit the website at unverferth.com.