Harvest Heroes Rebates Announced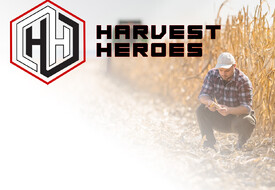 6/03/2020
Harvest Heroes Rebates Announced
June 1, 2020 - Kalida, OH – Unverferth Manufacturing announces the Harvest Heroes Cash Back Rebate for purchasers of its brands of new grain carts and select grain wagons from June 1, 2020 through July 31, 2020. Purchasers of Brent, Killbros, Parker or Unverferth brand grain carts and 500-plus bushel wagon models during this time period will receive up to a $6,000 cash back rebate check, based on capacity.
Harvest Heroes Cash Back rebate amounts for grain carts range from $6,000 for the 2,500 bushel model grain cart to $750 for 650 and 500 bushel carts. Wagon purchasers can take advantage of a Harvest Heroes Cash Back rebate of $1,000 for 750 bushel models, $850 for 650 bushel models and $650 for 550 bushel models. This special offer is to recognize those whose hard work and dedication helps provide the grains that feed our nation and world during this time. Complete details are available at the nearest Brent, Killbros, Parker or Unverferth grain cart dealer and at unverferth.com.
Unverferth Mfg. Co., Inc. is a family owned manufacturer and marketer of tillage, seed, hay- and grain-handling equipment along with applicators for commercial fertilizers, pull-type sprayers and agricultural dual, triple and specialty wheel products.