Unverferth Mfg. Co., Inc.
Brent® Announces New 96-Series Avalanche® Grain Carts: Powerful Standards For Unloading Speed, Capacity, Convenience, Durability
Brent® Avalanche® grain carts have set powerful standards for unloading speed, convenience, capacity and durability since 1998. The new 96 series models continue that commitment. In addition to the industry-leading 2,000-bushel capacity 2096...
Smoother Seed Flow with New T & G Applicator For Unverferth Seed Runner and Seed Pro® Seed Tenders
Unverferth Manufacturing Co., Inc. announces the availability of its newly developed T & G applicator for talc, graphite or combination as an accessory for its Seed Runner and SeedPro® seed tenders. Its patent-pending design provides constant ap...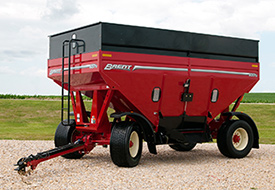 New Brent® Q-Series Grain Train® Wagons Are Quick, Quiet, Convenient
Unverferth Manufacturing Co., Inc., announces the availability of the Brent® Q-Series Grain Train® wagons. Brent wagons have been synonymous with innovations in grain-transport convenience and the new 757Q, 657Q and 557Q models with c...
About Us
Unverferth Manufacturing Company, Inc. today continues its proud tradition of product innovation and quality manufacturing. From humble rural Ohio beginnings, the firm has grown to be a recognized leader in the development and manufacturing of a wide variety of agricultural products including tillage implements, grain, hay, and seed handling equipment, crop sprayers and agricultural dual and specialty wheels.