Unverferth Introduces 60' Boom for ATV Sprayer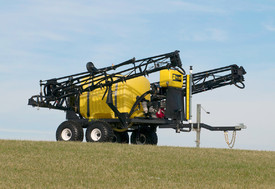 3/15/2016
Unverferth Manufacturing Co., Inc. announces the addition of a 60' boom for its Top Air ATV sprayer for greater crop-spraying productivity.
The new self-leveling 60' boom features three-dimensional steel construction for maximum durability and front-folding design for compact transport. The tool-free height-adjustable boom allows ground spraying clearance from 12" to 30". Outer wing sections feature a breakaway design for added protection and touchdown wheels to assist in boom clearance in uneven field conditions.
The Top Air ATV sprayer features 200-gallon tank capacity, width-and length-adjustable axle design, cushioned tongue for operator comfort and durable powder-coat finish to resist corrosion. It's also available with a 45-foot boom.
The Top Air ATV sprayer also features a nine-gallon clean-water tank with storage container for added operator safety. Its centrifugal spray pump is powered by a 5.5 HP Honda gas engine for reliable operation.
It performs like a full-size sprayer with features including tank agitation for proper chemical suspension, highly visible tank volume indicator, three-section boom with electronic ball valves,15" or 20" tip spacings and electronic rate controller.
Options include foam marker with dual-canister design, fence row nozzle kit for more accurate spraying at the field's edge, transport light kit and rate controller options.
Growers are encouraged to check with their nearest Top Air dealer or visit topairequip.com for complete details.