New X-Treme Grain Cart Models for Enhanced Harvest Convenience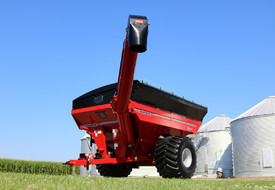 8/23/2018
Unverferth Manufacturing Co., Inc. announces new models of its patented X-TREME® grain carts which feature an updated body with steeper slopes for enhanced cleanout and a patented front-folding design for greater forward and side unloading reach and height for ideal unloading ease.
The new models 1519, 1319, 1119 and 1019 feature capacities of 1,500, 1,300, 1,100 and 1,000 bushels respectively and unloading speeds of up to 650 bushels per minute. The single front-folding, corner-mounted auger is specifically designed to position the auger further to the front and to the side for enhanced line-of-sight from the tractor cab. The patented soft-start, single-point auger engagement and Continuous-FlowTM flighting design features wing for a smooth transition of grain between the upper and lower augers for added durability and unloading speed. All augers are mounted in a deep sump for faster and complete unloading and feature 7/16" thick-edge flighting for longer life.
The standard four-way, hydraulic-controlled downspout features over 3-1/2' of inward/outward and left/right movement for easily topping off trucks with minimal tractor maneuvering. The gear-driven downspout positioning has a responsive feel for smooth, consistent operation and greater unloading control. Dual, auger-mounted LED lighting enhances nighttime operation.
Standard features include wheel-operated cleanout door, side-mounted ladder design and choice of high-quality red or green baked-on finish with silicone-sealed seams for an automotive finish. A transport chain and LED amber and red lights and reflective striping are included for safer road transport.
Undercarriage options, depending on model, include several sizes of single high-flotation or straddle dual wheels and tires. Tracks are also available in 36" widths with spring-cushioning or hydraulic tensioning designs, or the patented Equalizer® design with 42"-wide belt and front/rear and left/pivoting for optimum flotation, depending on model.
Weighing options include traditional scales with easy-to-use indicators with basic weighing features or enhanced 26-character LED display for added data tracking features; or the company's exclusive UHarvest® data system for detailed harvest tracking such as grower, farm, field and truck via ISObus and/or mobile device and UHarvest Lite ISObus system for tracking grower, farm and field using the tractor's monitor. An available moisture sensor for the UHarvest data system converts wet bushels to dry bushels for even greater accuracy.
For additional information, growers are encouraged to check with their nearest Unverferth dealer or visit umequip.com for complete details.