Refined, Reliable and Robust Harvest Data - Introducing the UHarvest Pro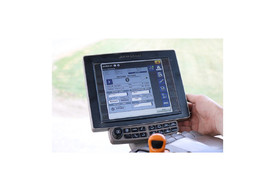 10/02/2019
Unverferth Manufacturing Co., Inc. recently unveiled its next generation UHarvest® Pro grain cart scale and data management system at the 2019 Farm Progress Show. Using its exclusive dedicated ISOBUS connectivity, the Unverferth UHarvest Pro system provides users with the most robust and reliable harvest data recording without the need for extra cables, displays or batteries.
Developed in collaboration with Raven Industries, the UHarvest Pro system offers unrivaled connectivity to the grain cart. A Bluetooth connection built into the grain cart's module seamlessly transfers data via cellular to any Android or IOS mobile device with the UHarvest Pro app. Users can connect to their free Slingshot® account to automatically generate professional reports to send to their crop insurance adjuster, landlord, or other trusted partner. Users can also merge and edit the data to suit their business needs.
The UHarvest Pro system can easily be set up to record data in grower, farm and field format. In addition, every unloading event can be recorded with truck identification, destination and variety information. Truck and destination capacities allow the operator to accurately load trucks and monitor bin levels at each destination to better manage their harvest. Accu-Save automatically records each unloading event by using a P.T.O.-mounted sensor for greatest accuracy.
"Raven understands how important it is for precision technology to simply work", said Brian Meyer, Vice President of Raven's Applied Technology Division. "By partnering with Unverferth and utilizing our deep knowledge of ISOBUS technology, we've developed a product that is easy to connect and simple to use, allowing the user to focus on covering acres, not configuring cables and setting up multiple displays. This system also leverages the robust connectivity platform with Slingshot Services and Logistics to provide growers with meaningful and actionable data."
Additional features of the UHarvest Pro system include hitch weight monitoring to manage the cart for optimal handling and one-touch verification to calibrate combine yield monitors and create reports for historical viewing.
Options include moisture-sense technology to automatically convert bushels harvested to dry bushels, and Accu-Load to dispense a pre-programmed weight into each truck for keeping loads within capacity.
The UHarvest Pro system is available on all of the company's grain cart brands as well as other cart brands equipped with scales. For complete information about the UHarvest Pro grain cart data system, growers can visit uharvest.net, or their nearest Brent, Killbros, Parker or Unverferth grain cart dealer. The UHarvest Pro system is a collaboration with Raven Industries Applied Technology Division.
Unverferth Mfg. Co., Inc. is a world-class, family-owned manufacturer and marketer of tillage, seed-, hay- and grain-handling equipment, along with pull-type sprayers, fertilizer applicators and agricultural dual, triple and specialty wheel products.
Raven Applied Technology is helping feed a growing population by delivering impactful technology that improves agricultural efficiency for custom applicators and growers around the world. From field computers to sprayer and planter controls, GPS guidance steering systems, wireless and logistics technology, Raven provides precision agriculture products and solutions designed to reduce operating costs and improve yields. Learn more at http://ravenprecision.com.