Unverferth Purchases Pro-Force Fertilizer Application Products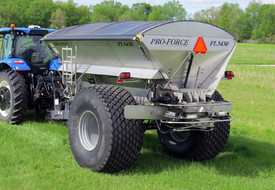 1/30/2020
Unverferth Manufacturing Co., Inc. announces the purchase of Force Unlimited of Oelwein, Iowa, an innovative manufacturer of the Pro-Force pull-type and truck-mounted spreaders. The product line includes single- and multi-bin models with user-friendly, adjustable spinners that provide uniform, prescription rate application of granular fertilizers, cover crops, poultry litter and compost on croplands.
Force Unlimited founder, Stan Duncalf, commented, "As an established, highly regarded company, Unverferth Manufacturing has demonstrated their sincere desire to grow the Pro-Force line with expanded distribution and continued new product development. They will also provide the added manufacturing capabilities for continued sales growth and maintaining high-quality manufacturing and aftermarket support for the products I have nurtured for the last 17 years." Duncalf will be joining the Unverferth team, focusing on product research and development.
Stated Larry Unverferth, company president, "We look forward to continuing the successes of Stan's innovative single- and multi-bin spreaders and expanding his vision to make the best, most innovative lineup of dry fertilizer spreaders for greater crop yields while reducing the environmental impact. This addition complements our current fertilizer application products and provides Unverferth with a complete lineup for agricultural retailers and farmers.
The top-of-the line, Pro-Force spreaders are manufactured with 304 stainless steel for the greatest oxidation resistance with precision machined parts for accurate variable rate fertilizer application. Additional information about the current product lineup can be found at forceunltd.com.