Dynamic Performance Now Pivoting to New Heights…Introducing the Brent 98-Series Avalanche Grain Carts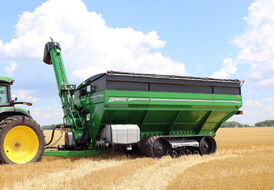 10/10/2022
Since the introduction of the first Brent Avalanche models 1084 and 884 in 1998 with the industry's first pivoting unloading auger, the design has been refined over the years to provide continuous performance enhancements and versatility. In recognition of the 25th anniversary, Unverferth Manufacturing Co., Inc. announces the introduction of new Brent Avalanche 98-series grain carts that take the legendary unloading performance to new heights and greater reach. The new models include the 2598, 1598, 1398 and 1198 Brent grain carts with 2500, 1500, 1300 and 1100 bushels respectively.
Enhanced unloading height and reach is accomplished by increasing the overall auger length by 36" on models 2598 and 2098 and 25" on the 1598, 1398 and 1198 that folds within the width of the cart for easier transport. For maximum harvest productivity, the Brent Avalanche 2598 and 2098 unload at up to 1,000 bushel per minute with 24" unloading augers, and the 1598, 1398 and 1198 with 22" vertical augers unload at up to 850 bushels per minute. The cart's versatility is enhanced with either right-or left-hand unloading to meet grower preferences.
Its low-profile, dual-auger design offers easy filling and steep-sloped hopper handles high-moisture grain with ease and provides complete cleanout. The dual augers are powered by an exclusive drivetrain with a belt-driven 20"-diameter floor auger working in conjunction with a heavy-duty, direct-drive 90-degree gearbox for the vertical auger. The patented soft-start auger connection and synchronized upper and lower vertical auger flighting keeps grain flowing smoothly and evenly for faster unloading and longer life. The computer-balanced 7/8"-thick max-edge flighting in high-volume areas features ¼" abrasive resistant steel wear strips for 20% greater life.
All unloading operations are powered by 5 SCV hydraulic ports, providing the ability to fold/unfold the auger, pivot the auger up/down, open/close the 16" wide flow gates and operate the left/right and in/out operation of the downspout. The rounded adjustable 4-way auger downspout is enhanced with a hydraulically driven gear motor for smooth left- and right-hand movement.
Additional features of the new models include larger observation windows for easier viewing of contents, side-mounted ladder with ergonomic design that extends away from the cart for easier climbing, single-point lubrication of auger components for simplified routine maintenance, vented end caps for smoother tarp operation, color-coded hydraulic hose grips, P.T.O. holder and hydraulic-operated jack on models 2598, 2098 and 1598.
Depending on model, the 98-series Avalanche grain carts can be equipped with a wide variety of high-flotation wheel and tire combinations or track options including the patented Equalizer track undercarriage with 9-degrees of side-to-side movement and 20-degrees of up and down movement for maximum ground contact through the field. The rubber-cushioned tongue provides added operator comfort while going through the field.
All models feature a standard Weatherguard roll tarp with wind straps to keep the tarp tight when using in windy conditions, ergonomic side-mounted ladder that extends away from the cart for easier climbing and durable coating of high-grade, baked-on enamel in tractor red, green, or a new metallic black for a long-lasting finish.
Options include a five-function pistol-grip remote control of auger operations and downspout, water delivery system featuring a 275-gallon tank with 100' of hose, and electric tarp operation with wireless key fob control. In addition to the cart's standard scale package it can be upgraded to the UHarvest Pro ISOBUS operated weighing system for the ultimate in harvest data reporting.
For additional information about the full lineup of Avalanche 98-series grain carts, growers can check with their nearest Brent dealers, or visit the website at brentequip.com.
Unverferth Mfg. Co., Inc. is a world-class, family-owned manufacturer and marketer of tillage, seed, hay- and grain-handling equipment along with pull-type sprayers, fertilizer applicators and agricultural dual, triple and specialty wheel products. For additional information, contact Unverferth Manufacturing Co., Inc., P.O. Box 357, Kalida, OH 45853. Phone 419-532-3121 or visit the website at unverferth.com.