Unverferth Manufacturing announces plant expansion, job creation at Shell Rock facility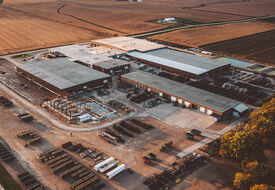 11/15/2022
SHELL ROCK, Iowa (Nov. 15, 2022) — Unverferth Manufacturing Co. Inc. announces it is nearing completion of a 75,000-square-foot plant expansion at its Shell Rock, Iowa, facility. This marks the 12th plant expansion since 1988 and brings with it the creation of up to 65 job openings for welders, painters, robotic operators, machine operators and general assemblers.
"This is an exciting time for Unverferth and the communities surrounding Shell Rock," said Larry Unverferth, president for the company. "We often say, 'Employees are not numbers at Unverferth; they're family,' and we mean it. There's no better feeling than creating high-quality jobs right here in the heartland. We're proud to support American manufacturing and look forward to welcoming more people into our new facility and the Unverferth family."
The expansion adds a manufacturing production line where welders and assemblers will build Unverferth Pro-Force dry fertilizer spreaders, Unverferth NutriMax liquid fertilizer applicators, Top Air sprayers and Brent high-capacity grain wagons. It also adds manufacturing space for welders and assemblers to build Brent grain carts and grain cart track systems. A brand-new paint booth is also being installed for added capacity. The facility expansions began in September 2021 and are expected to be completed in February 2023.
A number of upgrades and modernizations are part of the expansion, including:
State-of-the-art tube lasers increase product quality and capacity.
Electronically controlled air quality throughout the entire facility.
Overhead lifts to provide added safety for manufacturing larger parts and components.
State-of-the-art LED lighting provides enhanced visibility while reducing energy requirements.
Robotic part-sorting off the laser tables.
Fiber lasers for making high-quality parts with precision.
Qualified workers are needed
With continued high demand and recent product line additions, Unverferth is looking to hire qualified welders, painters, robotic operators, machine operators and general assemblers immediately at its Shell Rock location. Manufacturing wages start at $23 an hour and second shift employees receive a $2 per hour shift premium.
They will be hosting open interviews on December 15 from noon to 6 p.m. at the Shell Rock facility (27612 Temple Ave., Shell Rock); walk-ins are welcome to apply for all open positions. Applicants can meet supervisors and human resources professionals to learn more about the company. Training and education opportunities are available to those looking to work in this type of manufacturing career.
Other benefits include weekly paychecks, $0 health care premiums, up to 15% profit sharing retirement contribution each year and safe working environments. Unverferth is one of Butler county's largest employers at the Shell Rock manufacturing facility. This expansion and hiring blitz speak to the ongoing growth and strength of the business and Unverferth's commitment to grow with the communities where employees live and work.
"We look forward to inviting potential employees to our Dec. 15 open interview day," said Larry Unverferth. "Manufacturing jobs have changed dramatically over the past two decades, and we would love to show them how safe and clean our facilities are, in addition to how stable employment is with Unverferth. We're growing and we welcome anyone interested to check us out."
For more information, including the Unverferth 30-second job application, visit https://www.unverferth.com/careers/.