"Why Do You Choose Brent?" Video Contest Finalists Announced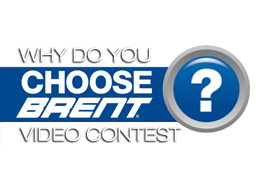 1/06/2012
Unverferth Manufacturing Co., Inc., manufacturer of Brent® Grain Carts, announces the "Why Do You Choose Brent?" video contest finalists. The contest began in June, 2011, and invited farmers to capture and share video footage of Brent grain carts in use and how they make harvest go smoother.
"With dozens of extremely creative entries from across the U.S. and Canada, narrowing down the field to the top five finalists was challenging", said Dan Fanger, vice president – sales and marketing. "We are grateful to have so many customers who take such great pride in their equipment, operations and most importantly, their families."
The five semifinalists are: Conrad Arnzen of Craigmont, Idaho with Boyer Farms; Tim Couser, Couser Cattle Co. of Nevada, Iowa; Frank Dietrich, Dietrich Farms of Lucan Ontario, Canada; Jake Hull and Knuth Farms of Wahoo, Nebraska; and Kyle Kohlhagen and Kohlhagen Farms of Rensselaer, Indiana. The grand prize winner will receive their choice of a 60" LCD HD television or Mac® Toolbox, both valued at $2,500. The second-place winner will receive a Cabela's® $1,000 gift card. The three other finalists each will win a new Canon® HD Camcorder for taking their home video to the next level.
The finalist's fellow farmers and general public can view and vote for their favorite video by going to www.brentequip.com/contest. Voting closes February 17, 2012, and the winners will then be announced at the Unverferth exhibit at the National Farm Machinery Show, Louisville, KY.
Unverferth Mfg. Co., Inc. is a family owned manufacturer and marketer of tillage, seed, liquid waste and grain handling equipment along with pull-type sprayers and agricultural dual, triples and specialty wheel products. For additional information contact Unverferth Manufacturing Co., Inc., P.O. Box 357, Kalida, OH 45853. Phone 1-800-322-6301, 419-532-3121 or visit the updated Web site at www.unverferth.com.