New Brent® Q-Series Grain Train® Wagons Are Quick, Quiet, Convenient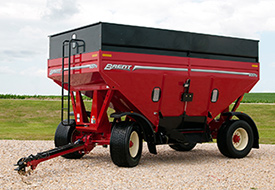 8/14/2012
Unverferth Manufacturing Co., Inc., announces the availability of the Brent® Q-Series Grain Train® wagons. Brent wagons have been synonymous with innovations in grain-transport convenience and the new 757Q, 657Q and 557Q models with capacities of 750, 650 and 550 bushels respectively, continue that tradition – quickly, quietly and conveniently.
Equipment efficiency is paramount during harvest and the exclusive push-button operated unloading door allows the operator to quickly and effortlessly unload from either the front or rear. The larger door opening unloads the grain as quickly as 60 seconds depending on model.
The integrated chassis design incorporates a load-equalizing torsion bar rear-axle, coupled with a front rocking arm bolster for keeping the wagon level and stable during loading and transport, and quiet when empty, even over the bumpiest gravel roads.
Other Q-Series Grain Train wagon features include:
Oil-bath hubs for greater maintenance ease
Gas-strut lift assist unloading chute with spring-loaded, position-locking mechanism
Unloading chute height adjustable from 15 inches to 18 inches with deflector for center or side unloading
High-intensity halogen floodlight above the unloading door for nighttime unloading
Standard hydraulic–surge drum brakes provide the ultimate in stopping power and long-term dependability and automatically disengage when backing
Lift-assist tongue with patented retractable wiring harness and safety chain
LED taillights with full reflective striping provides added transport safety
Available options include molded plastic fenders with LED side marker lights to protect the finish; dual wheels for the 757Q and a variety of wheel and new- or used-tire sizes. A rollover, 18-ounce canvas Weatherguard tarp for protecting load contents features a self-locking device for keeping the tarp securely in place during transport. Optional electric tarp operation is also available.
Visit brentequip.com for full details, or your nearest Brent products dealer.